A huge warm welcome to Year 6 (2018/2019)
Scroll down and soak in all the information about our learning in Year 6. We welcome you and if you have any questions then our wonderful team of teachers will be more than happy to help you.
-Miss Rashid -Miss Monika -Mrs Aldridge
Spring 1
The SATs countdown clock has begun, but we are not letting that stop us from enjoying our learning. Feel free through browse through what we have planned for the class this term.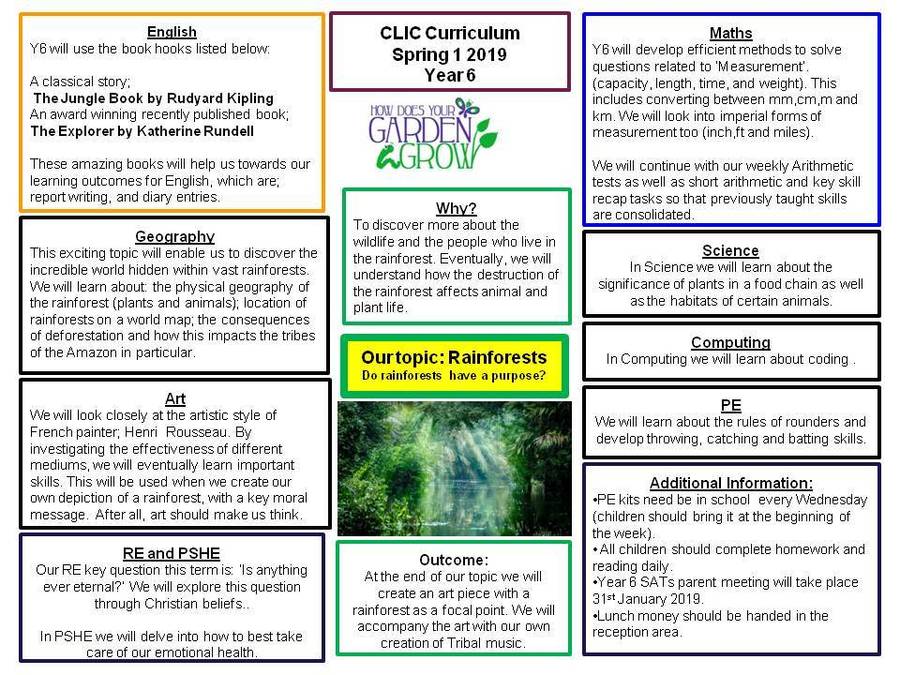 Autumn 2
We had a great time during another epic term. There is a great working environment running throughout every lesson, which encourages us all to learn and make progress regularly.
English
Our book hook was Sky Song by Abi Elphinstone. We used the ideas from this book and linked it to our CLIC topic. First we started off by developing prediction skills and moved on towards rehearsing key literary skills, which we would use when writing a letter. Our letter was targeted at the United Nations Environment Programme and focused on the current crisis many Polar bears face and the catastrophic effects of pollution of marine life It was difficult to choose only 6 writers from a very talented class of writers in Year 6, however after a difficult decision, 6 children were finally chosen. There letters were sent to the UNEP and we are still eagerly awaiting a reply from them.
Maths
This half term there was alot of discussion, paired work and resilience shown in Maths. We focused on everything related to Fractions, Decimals and Percentages. Children initially were a little worried about whether they would remember all the facts and methods needed to solve questions, but after repeatedly practising, majority of the class can now call themselves experts. There mock tests have clearly shown the great improvement they have made in this topic. Well done Year 6- Carry on impressing us!
CLIC
We started delving deep into 'Frozen Kingdom'. This ranged from understanding what the continental drift was, and the beginning of continents millions of years ago, to exploring the similarities and differences between Antarctica and the Arctic, and eventually we completed our topic by looking into the brave expeditions of Ernest Shackleton and the melting ice rates of the 21st century. Our topic's outcome was a replica of a frozen kingdom using Design and Technology skills. The 3D designs were very moving and presented a very harrowing truth faced by many animals of the Arctic.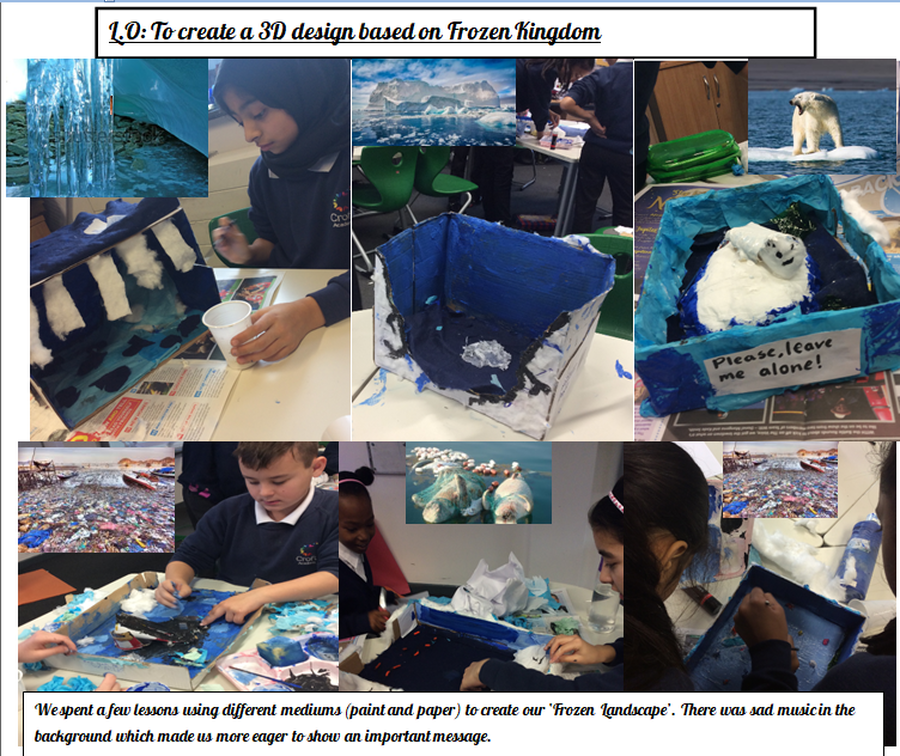 Autumn 1
The first term back to school has been interesting. Children have very quickly got to grips with the Year 6 expectations and are eager to progress their learning every day. After all, every day counts.
English
Our book hook was 'Boy X'; which was a thrilling read- after all it has already received multiple awards. The central theme of this book was how we truly understand our strength when faced with life-threatening situations. Children enjoyed predicting what the book could be about. Over a few weeks,they developed their use of speech (accompanied by action) to move the story forward, adjectives, fronted adverbials and subordinate clauses. We developed our form of writing by making edits and improvements so it achieved the intended impact. At the end of it all, we read our stories aloud to our groups and then finally reviewed different stories. It was amazing how children had so much variety in their stories and still kept the moral clear- Hidden strength is within us all. Well done Year 6.
Maths
Our mathematicians in Year 6 started off the term by developing a confident understanding of 'Number and Place Value.' We started off with concrete representations (dienes) and then developed our fluency. These are some of the things we have developed. Place value of numbers up to 10 million and comparing numbers using symbols (< > =). We can interpret what needs to be done when solving multi-step problems. Children have recognised when to move on to the next task so they are making good progress throughout the lesson. There are many opportunities made available in the classroom so that children can apply their knowledge through reasoning and mastery. This is probably many children's favourite lesson as we sing our 'Reasoning Song'. After all, 'We Are, We Are, Rapid Reasoners,' aren't we Year 6?
CLIC
Our CLIC (Creative Learning Impact Curriculum) was based on 'Evolution and inheritance'and we had a key focus towards Science. Through scientific inquiry we developed a better understanding of this significant aspect of Science. We observed similarities and differences in plants and animals . We looked closely at habitats and how certain animals have characteristics which show evidence of adaptation. We had some great discussions about the Theory of Evolution, first presented by Charles Darwin during his observation of the Galapagos Islands. For Art, we used oil pastels to represent an animal who is believed to have 'evolved' over time (giraffes and owls).