STAFF
Teacher - Mrs. R. Newman
Teaching Assistant - Miss. S. Kausar
Spring 1 Term:
Week 1:
The children arrived back to school on Tuesday with a wonderful attitude, ready to get stuck in with some hard work in preparation for our SATs.
In Maths, we revisited place value, learning the values of each digit in a two digit number and using different mathematical equipment to represent these numbers.
In English, we began our new book 'The Secret of Black Rock'. We worked together to predict what the story may be about and used the illustrations and clues in the text to make inferences. The children were very keen to find out what would happen to the main characters within the story and had mixed reactions when they found out the truth. We then looked more carefully at the thoughts and feelings of the different characters and used role play to help us develop our language and sentences.
In Science, we explored life processes and how these define if something is alive, dead or never been alive. We used our new knowledge to compare everyday items and worked hard to use our scientific language in our descriptions.
We began our new CLIC topic where we will be investigating what it would be like to live by the seaside. We worked in teams to mind map our initial ideas and how we could find out some new information.
A reminder that children will be bringing their books home to practise with an adult each night, however they must remember to bring their home reading books to school each day. They need these books for our Read to Succeed lessons.
Week 2:
In Maths, we completed our place value topic finishing with some problem solving. In arithmetic, we have been solving division and finding out quick methods to help us find the answer.
In English, we have been developing our vocabulary and language. Firstly, we identified super language the author had used and tried to use them in our own sentences. We also learnt about expanded noun phrases and how these create a clear picture in our reader's mind.
In Science, we looked at different habitats and identified different living things that could be found there.
In CLIC, we learnt about human and physical features in Geography. We identified different features of a coastal town and wrote a detailed description about it in Write On.
Congratulations to Aakiaf and Nikolas who were our stars of the week this week for an improvement in their writing and arithmetic. Keep up the hard work!
Week 3:
What a busy week we have had!
In Maths, we have been learning efficient methods to solve addition calculations. We have been building our fluency with our number bonds and using these to think of related facts. Take a look at Maliyah's super maths work using number lines and partitioning to add two digit numbers together.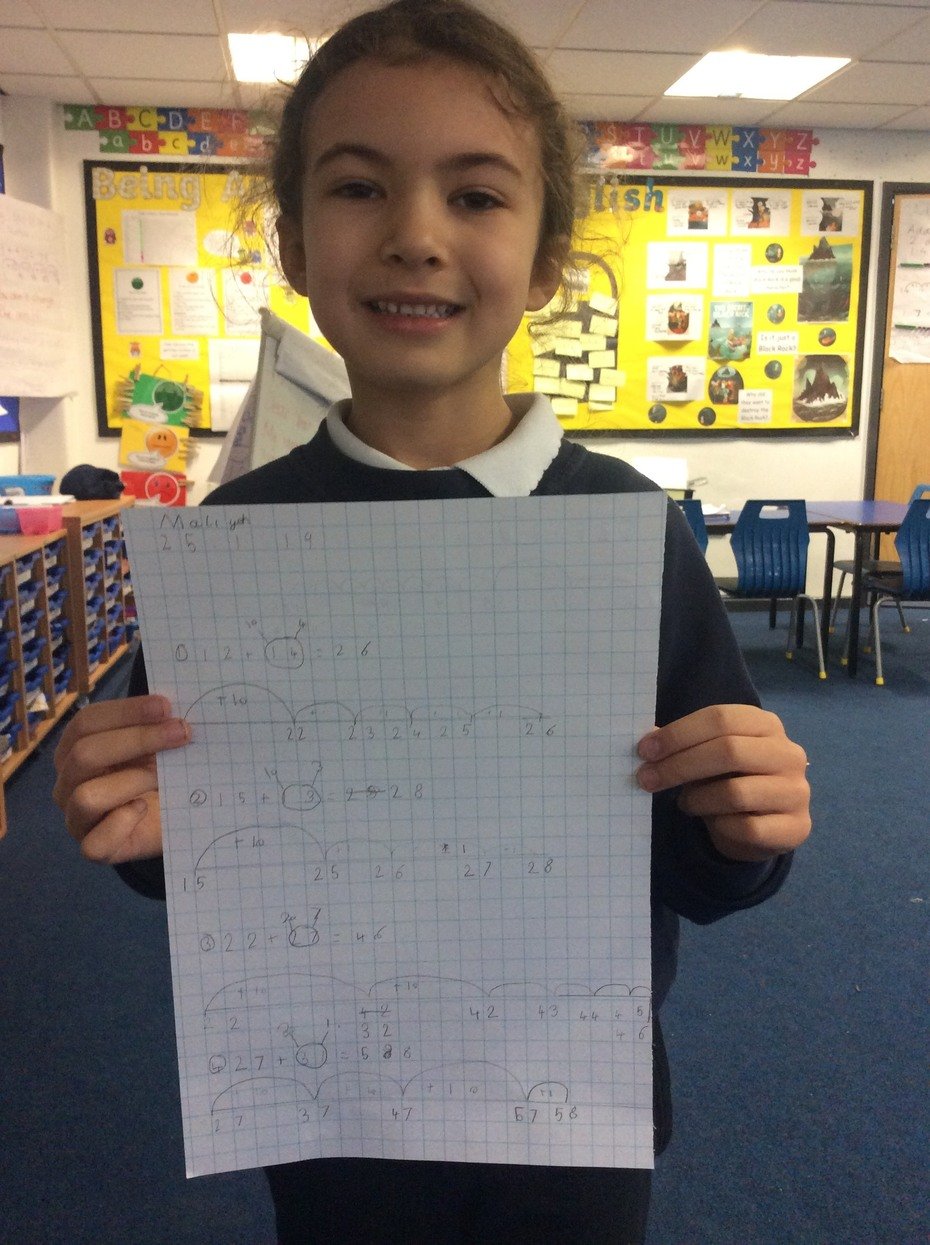 In English, we have been learning about conjunctions and how we can use these to extend our writing. We experimented with using the conjunctions but, because, if, so and when in our writing to add more detail. Some of us also tried to begin our sentences with the conjunctions. Later in the week we began retelling the story, take a look at Raheema's beautiful writing.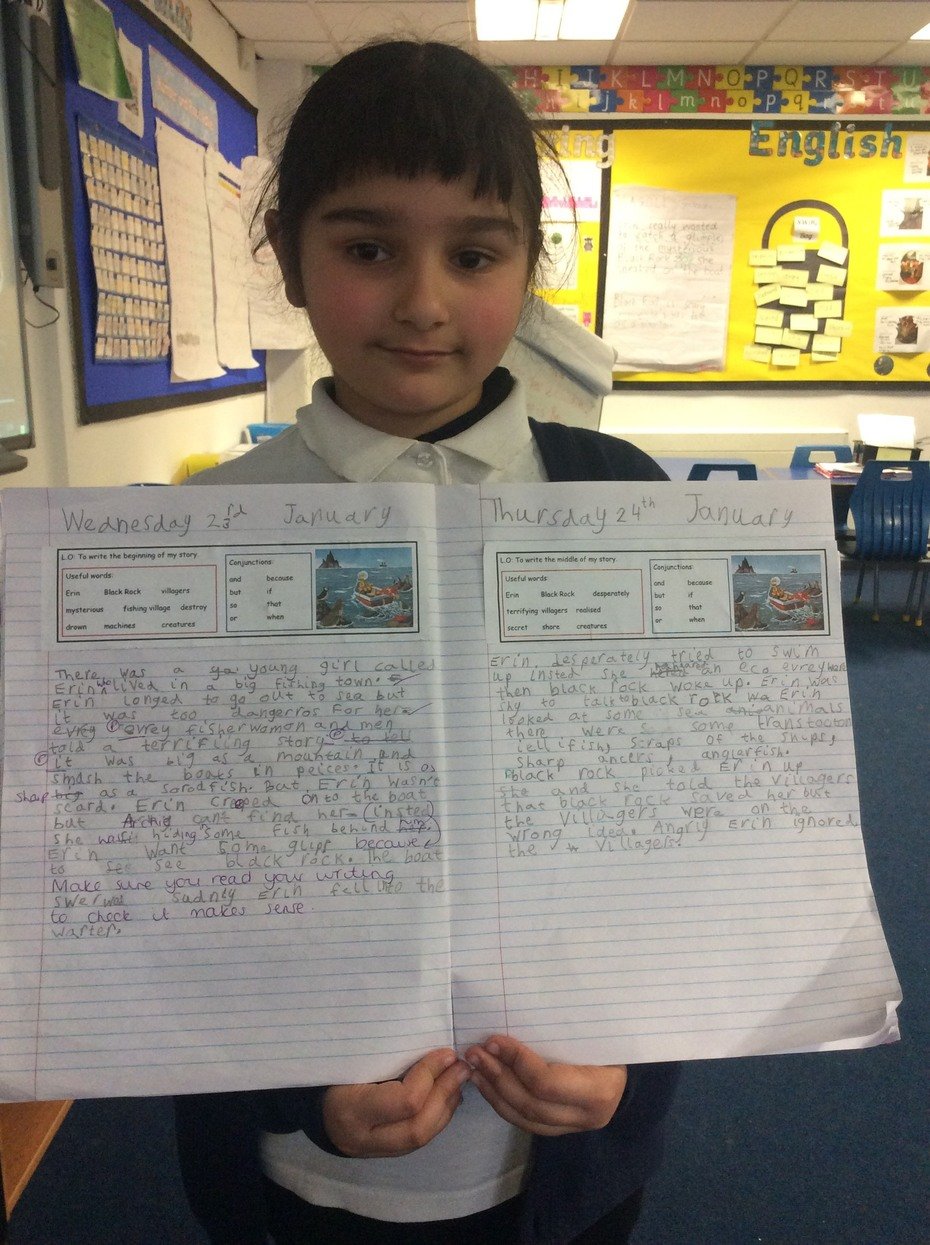 In Science, we identified the reasons why not all animals can live in the same habitat and how they are suited and have adapted to different habitats.
In CLIC, we compared the key human and physical features of a seaside in Britain and abroad. We tried to use our geographical language to describe what we could see.
Well done to Declan and Maliyah who were our stars of the week this week for always trying their best in all areas of learning and being a role model to others.
Summer Term
Week 1:
In English, we began by reading a new story called 'The Papaya that spoke'. We have been trying to memorise this story by using actions and visual cues to help us. We will be rewriting this story at the beginning of next week so look out for some super writing.
In Maths, we are fast approaching our Year 2 SATs so we have been busy revising lots of different topics to make sure we are completely ready. We have been working hard on our arithmetic skills developing efficient strategies to help us solve our calculations.
In Science, we started looking at plants. We began by making a mind map of all our prior knowledge and then we looked at identifying the different parts of a plant and learning about their purpose.
In CLIC, we started our new topic all about Britishness. We are focusing on learning about evacuation and how children were sent away to stay safe during World War II.
Well done to Bernice and Saba who were our stars of the week this week for always trying their best in all areas of learning and producing a fantastic role play in English.
Star of the Day!