Teacher: Miss Price
Teaching Assistant:
Mrs. Akhtar
Year 1 parents
Please come to a phonics workshop
on Thursday 15th March
in the Year 1 classroom
from 2.15-3.15pm
It is important to attend if you can as Year 1 have the phonics screening
and we will give you ways to help your children at home.
There will be a raffle ticket given to every parent who attends
and prizes given out at the end of the session.
Thank you for your support.
Year 1 staff.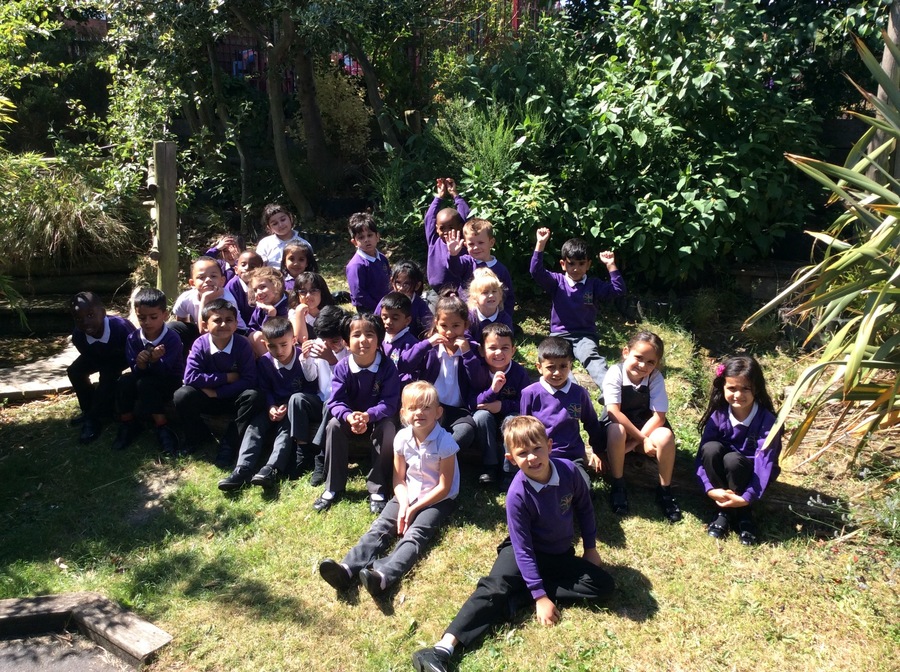 Here is our updated Spring Term weekly timetable so you know what we will be learning and getting up to.
Our second topic is How It's Made.
We are learning all about real bears and teddy bears.
Here is the topic overview and homework:
These five new friends will be helping us with our learning.
Spring Term A
Week One:
Welcome back from the Christmas holiday.
Our Stars of Spring A Week One!
Our Stars of Spring A Week Two!
Spring Term A
Week Three:
Our Stars of Spring A Week Three!
*************************************************************
Welcome back after half term.
We are still learning about the Royal Family, but we have moved onto stories about bears in our English lessons.
What books or films do you know about teddy bears or real bears?
In maths, we are learning our number bonds and how to write calculations on paper.
Do you know which pairs of numbers add to make 5, 10 or 20?
Autumn B Week Two:
We have had another busy week in Year 1.
The week started with a new role play. Goldilocks and the Three Bears have moved in. We have made story maps and retold their story, acting it out. Then we have written the stories.
In maths, we have done more work on our number bonds and used them to help us with our adding. We have also been learning how to count on from any number when we add, not always starting from one.
In science, we were investigating things that float and things that sink. We guessed what they would do before checking. Some of the things surprised us.
We combined art and RE and made collages and paintings of the Creation Story.
We also had a different day on Friday. We painted poppies then wrote thank you notes and poems to soldiers to say thank you for everything they do to keep us safe.
Our Star of Autumn B Week Two!
Autumn B Week Three
Goldilocks paid a visit to our classroom. She made an awful mess while the children were out at break. They were very shocked, disappointed and sad when they saw the mess! After talking to Goldilocks, they realised that she hadn't meant to make the mess so accepted her apology!
They then wrote some fantastic stories about Goldilocks in Our Classroom.
We also continued to learn through play and practical activities.
More and more of the children are writing independently and telling stories.
This week it was anti-bullying week. We learned what bullying is and how we can all try to get along and be kind to each other. We celebrated our uniqueness and our differences and similarities to each other.
Our Stars of Autumn B Week Three!
Autumn B Week Four
We read and acted out the story of how Paddington Bear met the Brown family and got his name this week. Then we wrote the story using Fred Fingers, capital letters, full stops and finger spaces.
After learning about royal weddings and engagements, some of the boys had a ceremony in the Role Play Lab in which they promised to be friends and look after each other forever. They even said they would let each other sleep if they were tired!
True friendship!
Our Mandarin is coming along so well that our teacher is getting a bit lost! We're much better at it than Miss Price!
Autumn B Week Five
In maths this week, we were calculating missing numbers in number sentences. It wasn't easy, but we learned different ways to do it using objects or number lines.
After reading and re-writing the story of Paddington Bear last week, we said how we could change the story this week and the children wrote their own versions. They had some great ideas, linking them to what they know about London. Some of the children said that Paddington might go to Buckingham Palace to have tea with the Queen and spill marmalade all over the floor or even on the Queen's dress!
We also had a lovely afternoon on Friday 1st December. We celebrated Queen Elizabeth and Prince Philip's wedding anniversary and the engagement of Prince Harry and Meghan Markle by baking cakes and making sandwiches for a tea party. Then we decorated our Christmas tree as it was the first day of Advent.
Some of our Always Green children went to Pizza Express to make pizzas as a reward for fantastic behaviour every day!
Congratulations to the winners of the certificate competition. Their certificates will now be given out in assemblies.
Autumn B Week Six
More problems and calculations in maths. We tried splitting numbers into tens and ones for the first time to help us add. It was very difficult, so we will try again another time. We also solved word problems. There were a mixture of problems and we needed to work out whether to add or subtract.
We read new bear stories: Where's My Teddy and This is the Bear. We didn't hear adults reading both of the stories to us. Instead, we told them to each other! It was fun!
We also had a Different Day on 8th December: Czech Republic Day!
We learned what the flag looks like, some of the food they eat and the toys they play with. We learned about the money they use and saw some of the buildings. Prague is the capital city and we found it on a map and also where the Czech Republic is compared to Great Britain on a globe. (We realised it's a lot closer to us than Peru, where Paddington Bear is from!)
Our Czech children were the stars of Czech Day. They were teaching us lots of words and really enjoyed knowing more than the adults!! They were amazing!
We even had some Czech biscuits that one of the children had made at home with her sister. (Well, her sister made them and she brought them in and shared them with her friends!)
Autumn Term B
Weeks Seven and Eight:
*************************************************************
Week One:
We've already been exploring our new classroom: writing, doing maths, painting, making music....
We can't wait to learn more!
Week Two:
We have continued our learning into week two.
There has been a lot of problem solving and creativity.
Try this game for two players:
Start at zero.
Take it in turns to count on one or two more at a time.
The player who says ten wins!
Or
Start at ten (or twenty).
Take it in turns to count back one or two more at a time.
The player who says zero wins!
Week Three:
This week there has been a lot of writing, especially about the Royal Family. We have been using our Fred Fingers to sound out words.
There has been lots of maths outside:
Some of the children set up a shop and were selling things. (Someone tried to sell a box of cereal for £20!)
We were playing dominoes and timing how long it takes to do different tasks (e.g. cooking, ironing, jumping jacks and writing numbers among other things).
There has also been some investigating into what happens to water when it is frozen and then melts. It was very cold and slippery!
Week Four:
There has been a lot more role play and problem solving.
We've been making Lego towers, putting one more brick on each time. If there is a mistake, we can put it right.
We are learning number bonds - pairs of numbers that add together to make five or ten.
We have continued looking at the changes that take place in the Autumn: counting how many green leaves are left and how many have changed colour. We used counting beads so we don't forget where we have got to with our counting.
We have been doing more writing and learning how to use new sounds in words.
Week Five:
This week we have continued to learn about the Royal Family. We have been role playing different versions of the books The Queen's Hat and The Queen's Knickers, where the Queen lost her hat and her pants!!
Our Queen lost her bag at Prince George's school and in Buckingham Palace. She asked George and his friends and other members of her family to help her find it.
We have begun writing our new version of the story.
When we were mind mapping what clothes we thought the Queen could lose, we found out that she usually wears dresses with matching coat, bag, gloves and shoes!
We have been wondering what she keeps in her bag! Does she carry money with her own face on it?!
We role played the fire at Windsor Castle and the call to the fire service to put it out!
We have been solving problems involving one more and one less and ordering numbers. Singing the song Ten Green Bottles has helped out counting back to find one less. We have also been using some of the rocks we collected as counters to help us in our calculations.
Week Six:
We have been counting in twos and investigating odd and even numbers. We've collected pairs to help us count in tows: pairs of socks on the washing line, pairs of shoes and wellies etc. We have counted 2ps in our shop. Number lines have helped too. We can jump over the odd numbers onto the even numbers. We can even work out how many pairs there are when we have different totals of objects.
In English, we have taken words we like from books we have read and tried to write them in our own sentences. We have begun to learn what nouns and adjectives are by playing different games: I Spy, Kim's Game and Mime It!
We are continuing to learn more sounds and how can read and write them in words.
We have continued to paint portraits of members of the Royal Family and role play events such as royal weddings or tea parties!
Week Seven:
We completed our own stories about the Queen losing her handbag. We based them on the stories we have read this term and what we have learned about the Queen, her family the places she lives in and her guards.
We showed how much we have learned about odd and even numbers, counting in twos, counting forwards and backwards and finding 1 more and 1 less.
We learned about and celebrated Harvest by writing poems and creating a leafy picture frame.
We finished the term with a house competition. We made royal crowns with some of the older children helping us.